The fall season transitions us to cooler temperatures, an abundance of pumpkins everywhere you look, fresh apple cider, and our favorite - cozy fall recipes! We rounded up our favorite fall camping meals that will keep you warm, cozy, and your tummy satisfied! Check out what we will be cooking this fall for breakfast, lunch, dinner, and dessert!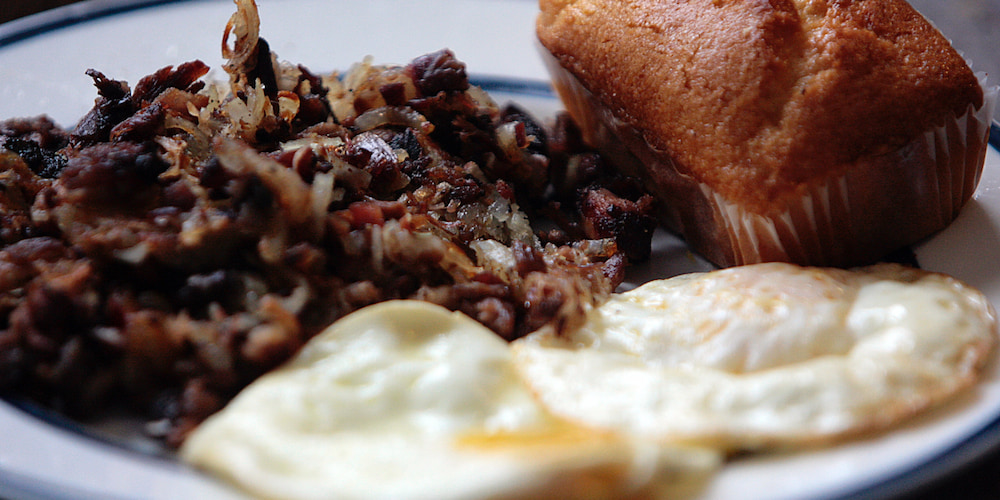 Breakfast
Start the day out right with these classic fall camping recipes in addition to a few unique twists! These breakfast dishes are so tasty, you'll want to make them in the summer, too!
Cinnamon Roll Breakfast Casserole
Taking only 15 minutes in prep time, this Cinnamon Roll Casserole will be cherished throughout all the seasons. This fall recipe feeds the whole family (8-10 servings) and is a great way to start the day camping, heading to school, or work!
Pumpkin French Toast
Enjoy a fall twist on this breakfast classic by making Pumpkin French Toast! This savory yet sweet comfort food combines pumpkin spice with your choice of bread. Don't forget to add some maple syrup or whipped cream for the ultimate breakfast meal!
Roasted Squash and Bacon Hash
Enjoy a plate of Roasted Squash and Bacon Hash for a savory meal that will keep you full for hours. Requiring just 6 ingredients, this cozy camping food is easy to make in the oven or over the campfire with family and friends!
Apple Maple Sausage Breakfast Sandwiches
Packed with protein and deliciousness, these Apple Maple Sausage Breakfast Sandwiches are sure to be a crowd pleaser. The secret ingredients that make this dish so unique is the addition of apple and lemon. This combination may seem odd, but once you try it, you'll never go back.
Pumpkin Spice Cereal Treats
These Pumpkin Spice Cereal Treats are not only yummy, but theycalso feed a crowd! With 24 servings, this fall camping meal only requires 4 essential ingredients. Plus, this is a great on-the-go breakfast option that will make everyone's lives easier!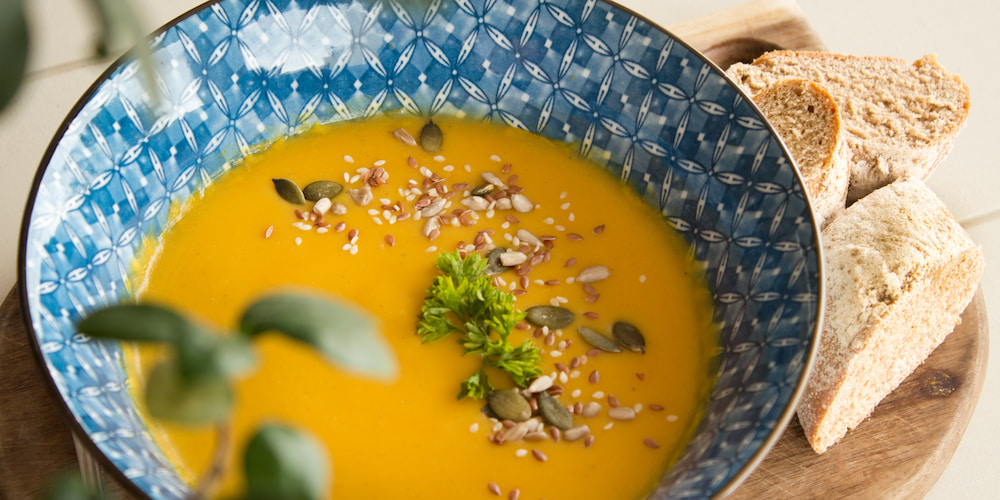 Lunch
If working from home, take a break from the day and make one of these lunchtime camping recipes, or if working on-site, make one of these recipes ahead of time and bring it to work! Best yet - if you're going on a fall camping trip, plan ahead and be sure to try some of these camping lunch ideas! Either way, these cozy camping meals will give you enough energy to finish out the day strong.
Fall Harvest Honeycrisp Apple & Kale Salad
It isn't fall without sweet, Honeycrisp apples! Although this meal may not make you feel warm and cozy, you're guaranteed to be in the fall spirit! This Fall Harvest Honeycrisp Apple & Kale Salad includes maple syrup, prosciutto, pomegranate, feta cheese, and a delicious cider vinaigrette. Yum!
Sunny Anderson's Easy Roasted Garlic & Pumpkin Hummus
Pack some carrots or crackers and enjoy this easy fall hummus recipe for lunch! The combination of garlic and pumpkin makes this dish a mouthwatering treat. Don't worry if you don't have anything to go with the hummus - it's so tasty, you may find yourself eating it by the spoonful!
Creamy Pumpkin Soup with Grilled Cheese Croutons
Be a kid at heart when you try this Pumpkin Soup with Grilled Cheese Croutons recipe! The grilled cheese croutons will be a fall favorite at your home and is great for dipping into this mouthwatering soup! Plus, this meal is a great way to keep you warm and cozy on a chilly fall day.
Maple Glazed Trail Mix
A great camping food to make ahead of time is this Maple Glazed Trail Mix recipe. Bursting with flavors of coconut, maple syrup, chocolate, and cherries, both the kids and adults will keep wanting more. Plus, this recipe is SO easy, you might as well make it in bulk!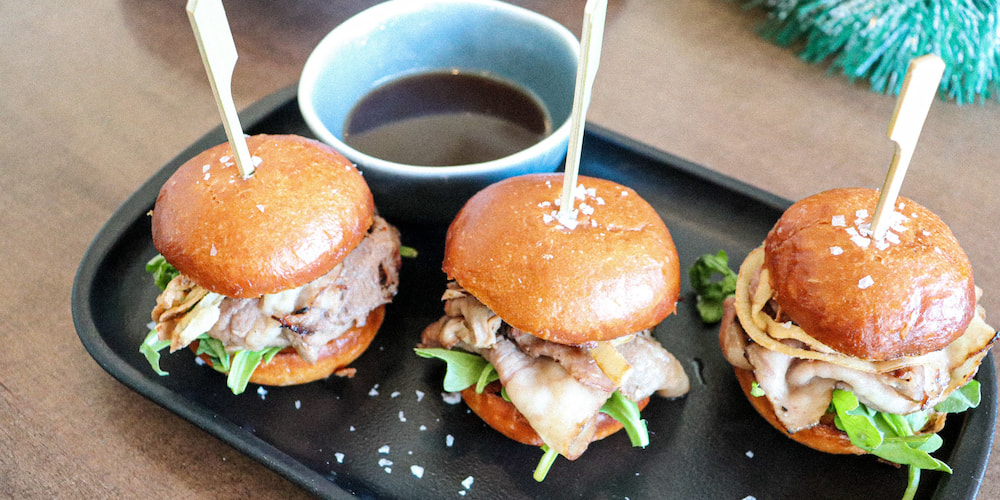 Dinner
End the day with some delicious comfort food by trying one of these cozy camping recipes! From a heartwarming Pumpkin Chili, to a refreshing Apple Pork Chop recipe, this fall season will be one your tummy will enjoy.
Pumpkin Chili
There's nothing better than a warm bowl of chili to end your night. Try this Pumpkin Chili next time you make a pot! The aromoas and spices of this dish will become the focal point. This delicious fall twist may even become your favorite cozy camping food!
Sheet-Pan Pork Chops with Apples
This dinner recipe takes just 10 minutes to prep and 35 minutes to make - talk about an easy fall meal! This Sheet-Pan Pork Chops with Apples dish requires only a sheet-pan and small bowl when preparing - meaning you better bookmark this easy weeknight dinner idea right now!
Apple Cheddar Burgers with Carmelized Onions
Take the average American burger to the next level by adding apples and carmelized onions! This fall burger recipe only requires a grill or stovetop with very minimal ingredients. Don't forget to add a side to this meal like sweet potatoes, a salad, or roasted veggies!
Baked Pumpkin Goat Cheese Alfredo with Bacon
This Baked Pumpkin Goat Cheese Alfredo with Bacon is the perfect cozy camping recipe! Enjoy a variety of ooey-gooey cheesiness around the campfire or with family and friends in your home. This unique dish serves up to 10 people and is one that will be remembered by everyone.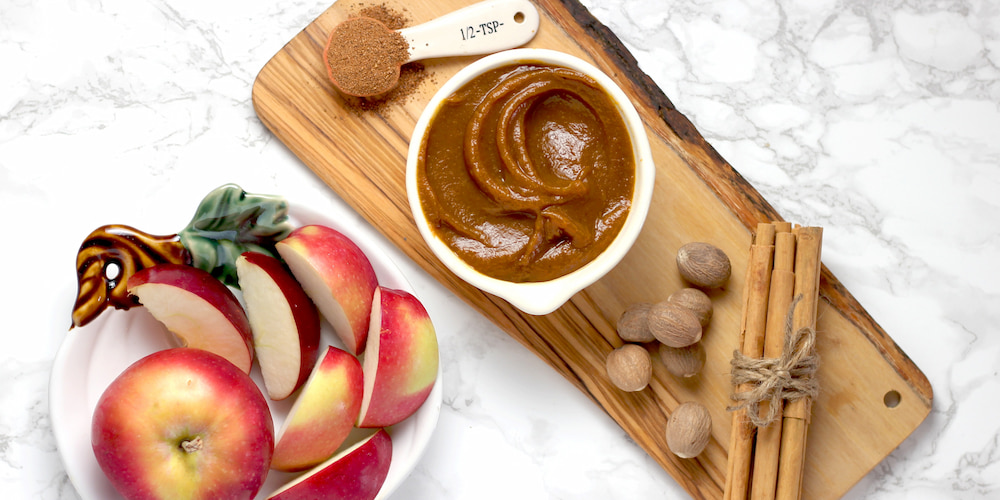 Dessert
Treat yourself to some fall dessert classics as well as some newbies you're sure to love. Sharing may be caring, but it's not required when enjoying one of these fall camping desserts!
Quick & Easy Apple Tart
Looking for a quick fall dessert to master? Try these Apple Tarts! Taking only 40 minutes to make from start to finish, this fall dessert is one the family will be asking for over and over again.
Chocolate-Swirled Pumpkin Bars
For any chocolate lovers out there, this fall recipe is for you! These Chocolate-Swirled Pumpkin Bars make 40 bars (wow!) and will satisfy your sweet tooth. From the pumpkin spices of cloves and cinnamon, to the combination of cream cheese and chocolate chips, everyone is sure to love this dish.
Baked Apple Cider Doughnuts with Cinnamon Maple Glaze
Skip the Cider Mill and make your own doughnuts at home! This classic fall doughnut recipe can be made with a doughnut or muffin pan - your choice! There's nothing better than a warm doughnut right out of the oven. Be sure to enjoy your masterpiece with some apple cider, too!
Caramel Apple Dip
A recipe that requires only 4 ingredients? Count us in! Try this Caramel Apple Dip next time you're looking for a cozy camping food. Best served warm, this recipe takes only 6 minutes to make! Be sure to have some apples on hand when serving this delicious dip!
Pumpkin Pie Shaped Rice Krispie Treats
Enjoy a pie without the mess by making this fun fall recipe! This Rice Krispie Treat dish is so easy to make - plus, the kids are sure to love the creativity! Don't forget to add some vanilla frosting for the whipped cream and some candy corn for extra decoration!
We hope you try all of these dishes so you can decide on the best camping recipe of the season! Whether you're sitting around the campfire at our Camp-Resort, or relaxing in the comfort of your own home, don't forget to snap a photo of your delicious masterpiece and tag us on Instagram at @lakesregionjellystone and #lakesregionjellystone. We hope to see you at Jellystone Park™ Lakes Region this fall!