There's nothing better than the feeling of lodging somewhere new in a big, comfortable bed and exploring all the amenities there is to offer. Are you looking for Lakes Region, New Hampshire hotels for your next trip? What about Milton, New Hampshire hotels? What if we told you there's a better way to experience this than booking a hotel? At Jellystone Park™ Lakes Region, we offer 5 luxury cabin types that give you the same feeling as a hotel, but with way more benefits! If you're considering taking a trip to Milton, keep reading for the benefits of booking a camping experience over a hotel!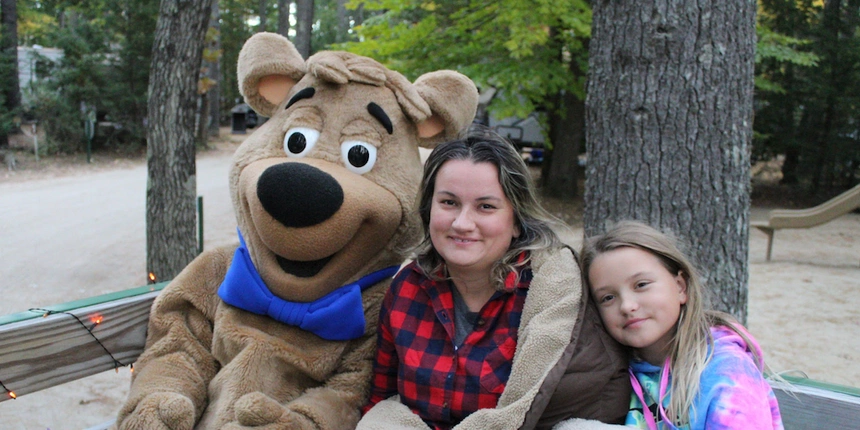 Lower Cost
Spreading your family throughout multiple hotel rooms to fit everyone can get pretty costly, which is why booking a cabin at our Camp-Resort can actually help you save big on your vacation. Most of our luxury cabins can sleep up to 7 or 8 people, so you only need to book one cabin instead of two hotel rooms. Plus, we have 15+ attractions included in your stay, so you don't need to spend a lot on activities to do outside of your lodging costs! If you're choosing to RV camp with us, you'll save even more on lodging while still getting the same benefits of included attractions!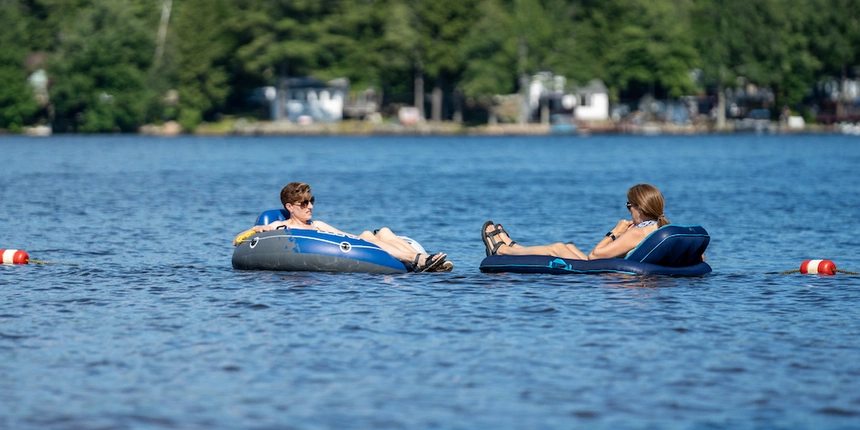 Enjoy the Fresh Air
Booking a hotel might coop you up inside for a majority of your vacation. When you book a camping experience at Jellystone Park™ Lakes Region, you can enjoy and appreciate the outdoors! Get away from the busy city and breathe in the fresh air and the great outdoors. If you want to cool off during your stay, splash the day away at our activity pool. If you're feeling adventurous, you can rent a kayak and paddle down the Northeast Pond! If you just want to relax, pull a chair out on our sandy beach or enjoy some peace and quiet in your cabin. Whatever you choose to do during your stay, you're more than likely going to spend it outside!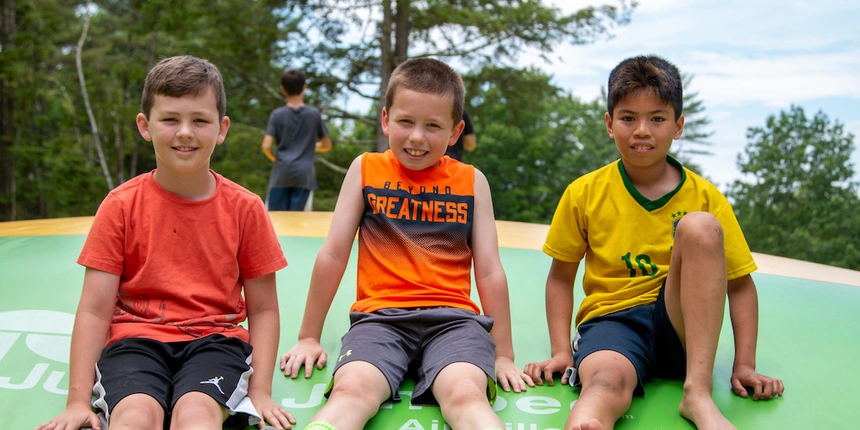 Make New Friends
While hotel rooms are secluded and only meant for sleeping during your vacation, our Camp-Resort gives you plenty of opportunities to make new friends! No matter what age you are, there are always friendly faces and families for you to meet. Maybe you'll meet a friend playing water basketball, or soaring on the jumping pillow! You might even meet a friend tie-dying a t-shirt. If you participate in our themes, you might become friends with another family taking part in our themed events. There are plenty of opportunities for you to walk away with a new buddy or two after camping at Jellystone Park™ Lakes Region!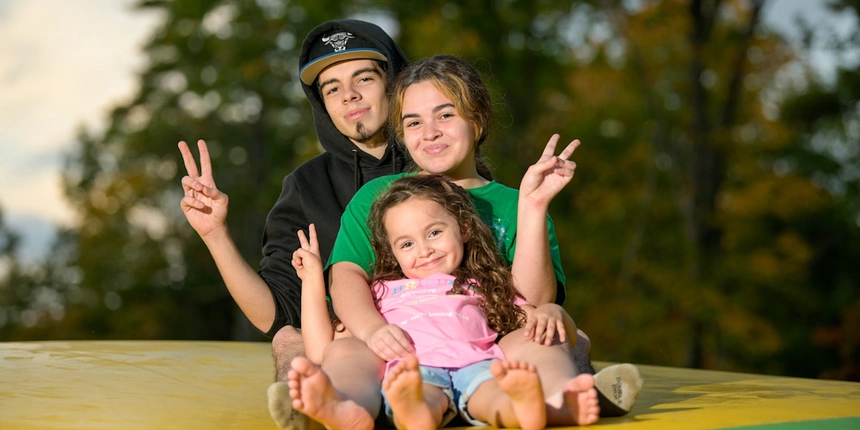 Quality Family Time
Going back to lodging, you'll get to spend more time with your family when you book a camping trip over a hotel! Instead of your family being divided between multiple rooms, you can spend quality time together under one roof, while still getting the benefits of a private bedroom! Rather than relaxing in bed and watching tv all night in your hotel room, there are plenty of activities for all ages that will keep you and your family busy and bring you closer together during your stay!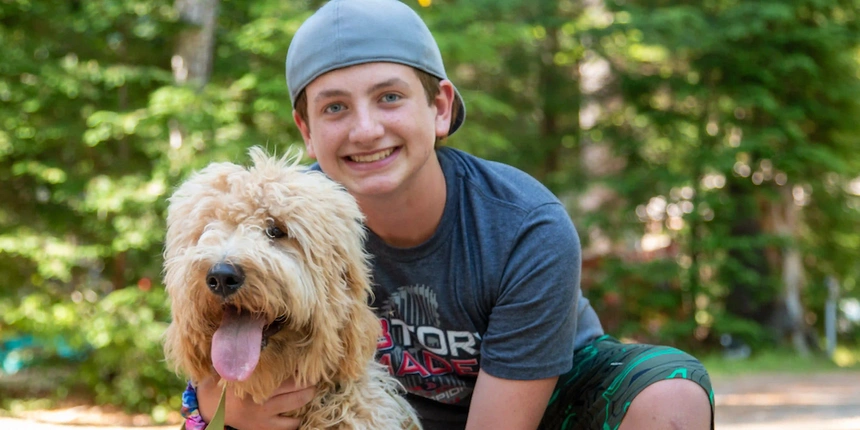 Bring Your Furry Friend
It might be difficult to find a Milton, NH hotel willing to accommodate your furry friends, but our Camp-Resort offers pet-friendly cabins and allows pets all of our RV sites! Let your dog burn some energy and run around at our Bark Park during your stay, or put them on a leash and walk along our wooded trails for him to explore. Plus, maybe your pet will make a furry friend of their own!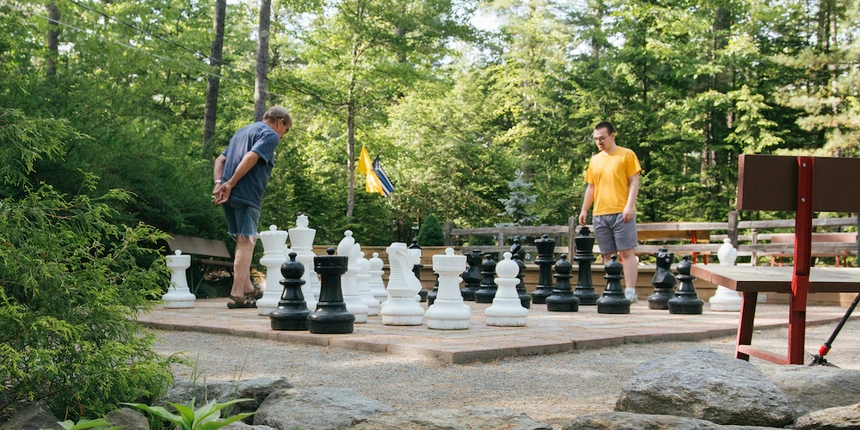 Included Attractions
While hotel costs only include your room, and maybe a pool, our Camp-Resort includes most of our attractions and activities in your cabin or campsite price! No need to make an itinerary with expensive things to do when you can just step outside your site and explore all the included attractions we have to offer! You can ditch the high-priced waterpark day passes and spend the day at our activity pool - completely included in your stay! Play endless rounds of mini golf with the entire family at no cost at all. Plus, when you book a peak season stay, we offer daily activities at no cost! Click here to see a full list of attractions included in your stay.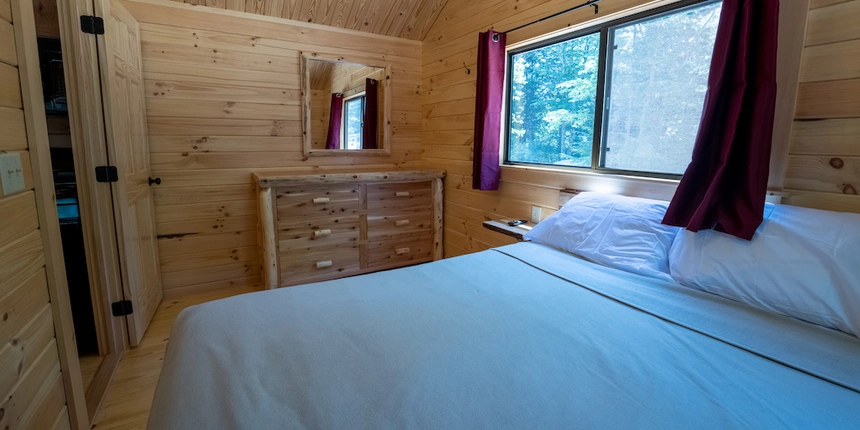 More Privacy
You may get your own private room when you book a hotel, but you get an entire cabin all to yourself when you choose a camping experience! Our cabins offer more amenities than Milton, NH hotels, such as full kitchens, a private porch, a fire pit, picnic table, and some cabins even include a private hot tub! You won't have to worry about your hotel neighbors keeping you up all night with their loud noises when you book a cabin over a hotel stay.
Choosing a camping experience at Jellystone Park™ Lakes Region over a booking a hotel gives you plenty of benefits that will make your vacation even better! When you stay at our Camp-Resort, you'll still get all of the benefits of being close to a bigger city while still escaping the hustle and bustle that comes with city lodging! Enjoy lower rates, making new friends, and more when you book a camping trip over a Milton, NH hotel. Book a vacation that the whole family will love here.