Whether you're camping with a crowd or doing a solo camping getaway, deciding what campfire meals to prepare for is a major factor in your camping trip. From make ahead camping meals to 10 minute camping dinners, the options are endless. We rounded up 20 easy and delicious camping recipes for your summer camping trip that we're sure the whole family will love! Keep reading for breakfast, lunch, dinner, and dessert camping meal ideas - the grocery list starts now!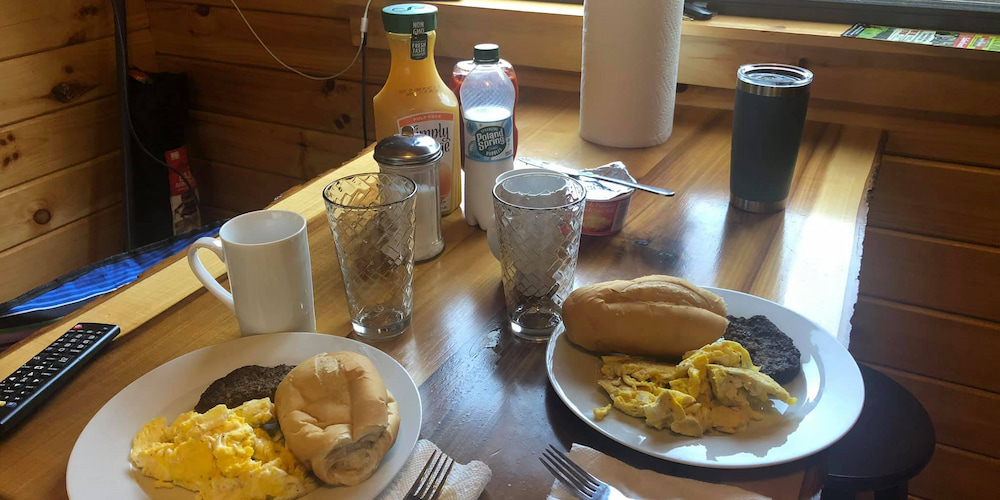 Breakfast
As they say, breakfast is the most important meal of the day. Try out these 5 camping breakfast recipes to jumpstart your day the right way!
Campfire French Toast
Enjoy a quick prep time of 10 minutes when you make this delicious Campfire French Toast recipe! This dish can make up to 8 servings - making it a great camping recipe for a crowd! Create your own unique twist on this recipe by adding in additional fruit or a dash of cinnamon sugar. Yum!
No Bake Nutella S'mores Granola Bars
Who says s'mores can only be for dessert?! Try out this No Bake Nutella S'mores Granola Bars recipe for a sweet and satisfying breakfast. This dish can either be made ahead of time or right on the spot, as it only takes 6 ingredients and 15 minutes to prepare!
Camper's Breakfast Hash
The Camper's Breakfast Hash is a savory dish that everyone will love. This breakfast camping recipe takes less than half an hour and serves up to 8 people - making it a must-try! All you need is a cast-iron skillet, hash browns, sausage links, cheese, and your favorite veggies to make this delicious meal.
Campfire Pancakes with Peanut Maple Syrup
Start your day off with some Campfire Pancakes with Peanut Maple Syrup! In just 20 minutes, you'll have 8 scrumptious pancakes that only uses 7 ingredients - making it an easy camping meal for families. Your kids will want this meal more than just on family camping trips!
Sausage and Hashbrown Breakfast Pizza
While the kids are sleeping, prepare this Sausage and Hashbrown Breakfast Pizza camping recipe for breakfast! Although the main ingredients in this recipe are crescent rolls, pork sausage, and hashbrowns, you can make this recipe one of your own by adding on additional toppings. Pizza for breakfast, anyone?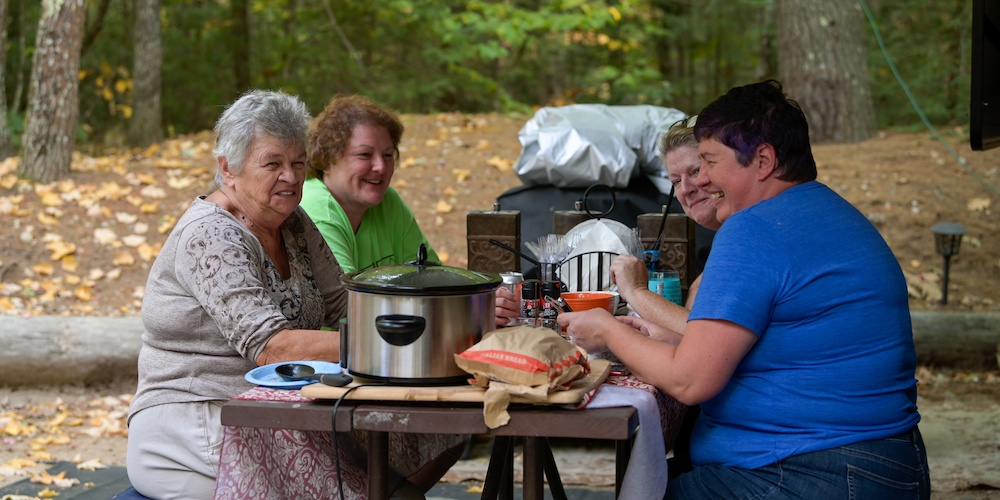 Lunch
Lunchtime means you're halfway through the day, so it's time to get some protein in and continue making camping memories! From easy 20 minute meals to recipes that the kids can help prepare, you're sure to love one or all of these 5 camping recipes.
Walking Tacos
This Walking Taco recipe is sure to be a crowd pleaser. Choose from ground beef or turkey, Fritos or Doritos, and pack some lettuce, cheese, tomato, and any other veggie you wish to add. Stuff them all together and you get yourself a walking taco in 20 minutes or less!
Skillet Spinach-Artichoke Dip with Fire-Roasted Bread
Prepare the grill for a delicious take on spinach artichoke dip! This easy camping recipe is simple to prepare and only takes 30 minutes to make. You'll need a cast-iron skillet, plenty of cheese, lemon, spices, and your favorite loaf of bread for dipping. Get the recipe for the Skillet Spinach-Artichoke Dip with Fire-Roasted Bread here.
BBQ Hot Dogs with Cilantro Slaw
Add a fun twist to the classic hot dog with a delicious, make ahead slaw! In just 25 minutes, you'll have a delicious hot dog (either grilled or roasted on the campfire), covered with BBQ sauce and topped with a simple slaw and some cilantro. You better bookmark this BBQ Hot Dogs with Cilantro Slaw camping recipe now!
Pie Iron Pizza Pockets
Known as pie irons or hobo pies, this tool is one you must bring on your next camping trip. This Pie Iron Pizza Pocket recipe is so easy to make - plus, the kids will have fun helping make lunch! To make this camping meal even simpler, buy some pre-made dough so all you have to do is add the pizza sauce and toppings! If you don't have a pie iron, you can find them for sale here.
Grilled Corn on the Cob
The kids will love this Grilled Corn on the Cob recipe! Covered in a mouthwatering garlic-chive butter, this camping meal is both easy to make and will satisfy your grumbling tummy! Plus, this recipe serves up to 8 people but is very easy to double if you're feeding a crowd!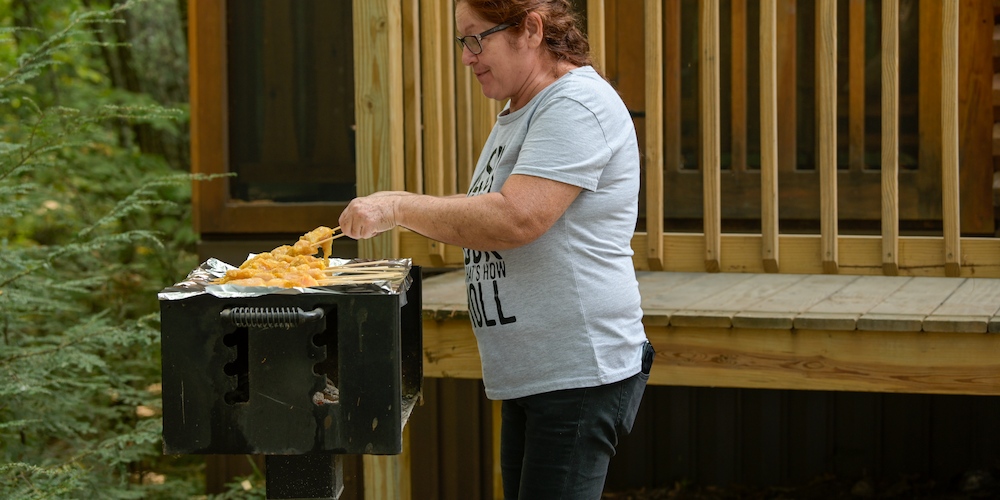 Dinner
The day is almost over, but the fun doesn't have to end! Make one of these easy camping dinners for you and your family! These 5 camping meal ideas are filled with both classic dishes and unique twists.
Grilled Sausages with Summer Vegetables
Researching camping recipes for a crowd? Make some Grilled Sausages with Summer Vegetables for the ultimate camping dinner. This recipe makes 12 servings and is an easy camping recipe for the grillmaster in your family!
Pineapple Chicken Kabobs
These Pineapple Chicken Kabobs are a great make ahead camping meal and surely won't disappoint. Requiring just 9 ingredients, this camping recipe allows you to marinate the chicken anywhere from 1 hour to up to 24 hours. This way, you can prep this dish ahead of time so that once you get to your campsite, you can set-up and go!
Shrimp Scampi Foil Packets
Enjoy a delicious, yet quick make ahead camping meal when you prepare these Shrimp Scampi Foil Packets! Once you combine the shrimp and spices, you can choose to let it marinate overnight or you can make this camping recipe right away. This recipe serves 4 people and only takes 10 minutes on the grill - talk about an easy camping meal!
Camping Mac and Cheese
Mac and cheese using only 6 ingredients? Yes please! Check out this Camping Mac and Cheese recipe - we think it may be the easiest make ahead camping meal. Choose to bake it in the oven or on the campfire - your choice! This camping recipe is easy peasy and very cheesy!
Classic Cheeseburger
You can't go wrong with this Classic Cheeseburger camping recipe! Whether you choose to buy pre-made patties or make your own, we're sure your cheeseburger concoction will be full of flavor! Don't forget to pack your favorite toppings like cheese, lettuce, tomato, pickles, onion, and condiments.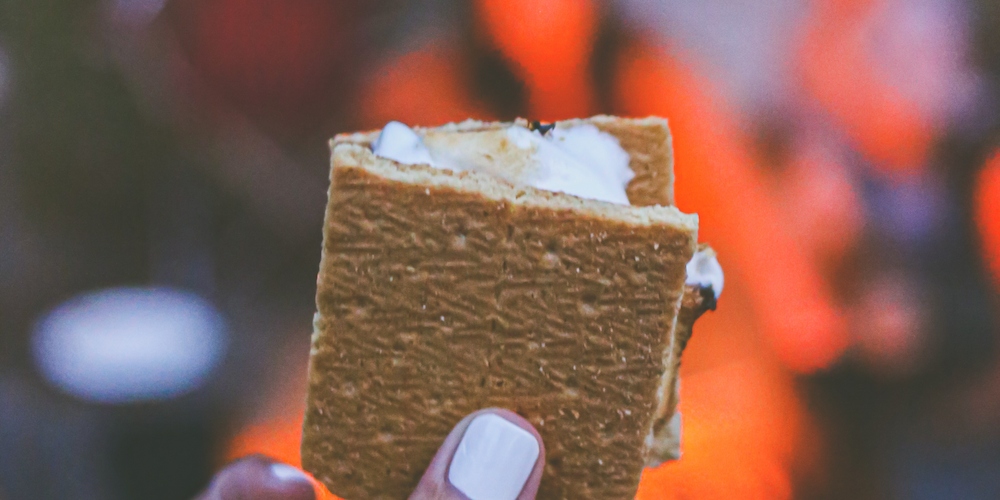 Dessert
Perhaps our favorite part of the day...dessert! From chocolatey and savory, to fruity and refreshing, these camping dessert ideas are a great way to end the night around the campfire with family and friends. Plus, your sweet tooth will be satisfied!
Skillet S'mores
Enjoy a fun twist on the traditional camping dessert - s'mores! These Skillet S'mores are so cute, yet so tasty. Plus, you can choose to make 12 individual skillet s'mores, or one large dish to share! Both the kids and adults will love this camping dessert.
Grilled Shortcake Skewers
A camping dessert with just 3 ingredients? Yes please! This Grilled Shortcake Skewer recipe is a healthier take on a traditional dessert and calls for your favorite fruit, like strawberries or pineapple, pound cake, and whipped cream. Once you add your fruit and pound cake to the skewers, all that's left to do is grill them for 6-8 minutes and top with whipped cream. Yummy!
Campfire Dessert Cones
This Campfire Dessert Cone recipe is great for on the grill and around the campfire! Pack some sugar cones and stuff it with your favorite toppings - like marshmallows, candy, and peanuts - then wrap it with foil and heat over the campfire/grill. In roughly 10 minutes, you'll have a delicious dessert that will make your camping trip one to remember.
Grilled Chocolate Chip Cookie Sundae
Using just 5 simple ingredients, the Grilled Chocolate Chip Cookie Sundae is the perfect campfire meal to bookmark. Enjoy a warm, melted chocolate chip cookie over the campfire with a scoop of vanilla ice cream and voila - you have a delicious dessert! Plus, you can choose to make this camping recipe on the grill as well.
Campfire Peach Cobbler
Skip the chocolate and bring on the fruit! This Campfire Peach Cobbler recipe makes 8 servings and is an easy dessert to be made around the campfire. Using a Dutch oven, this camping recipe is sure to be made with tender loving care!
YUM! Is your mouth watering too? No matter which camping recipes you choose to try, you won't be disappointed. Don't forget to snap a photo of your campfire masterpiece and tag us on Instagram at @lakesregionjellystone and #jellystonelakesregion. We hope you have a great summer camping trip filled with lifelong memories and delicious food!