Located between New Hampshire and Maine, Northeast Pond is a hidden treasure and is located in the backyard of our Camp-Resort! This 683-acre lake is known for its excellent fishing, crystal clear waters, and gorgeous scenery - making it the perfect destination to book your lakefront vacation rental! From our lakeview cabin types, various add-on options, private beaches, and peaceful setting, Jellystone Park™ Lakes Region is the place to be this summer.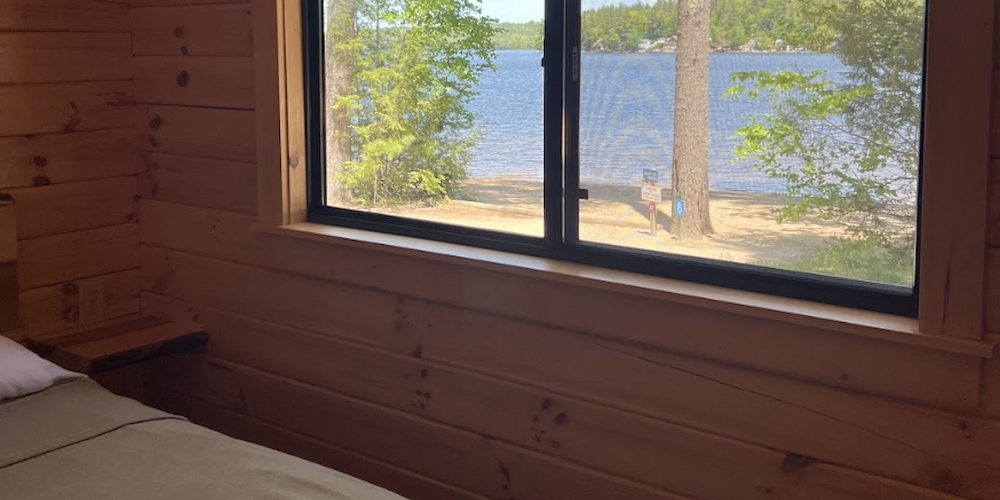 Lakeview Cabin Rentals
Out of our 6 different cabin types, we offer 2 cabin rental options that provide gorgeous, lake views of the Northeast Pond! These cabins are a great option when searching for the best New Hampshire vacation rentals for your next family getaway. Keep reading to learn all about our 2 lakeview cabin options!
Lake Bluff Bungalows
Our Lake Bluff Bungalows are the prime choice for those looking to book a lakefront cabin. With some cabins situated right along the water, to others tucked more inside our Camp-Resort (but still offer lakeview perks), this cabin type is guaranteed to exceed your expectations! If you're looking to select a specific lakeview cabin based on it's location, we recommend checking out our Camp-Resort map.
In addition to the superb location, our Lake Bluff Bungalows can sleep up to 7 people, include a full bathroom, kitchen (no oven), private bedroom, loft space, and screened-in porch. Outside of your cabin, you can enjoy perks of a charcoal grill, fire ring, and picnic table. Plus, this cabin type is pet-friendly, allowing you to bring your furry friend with you!
White Pine Cabins
Located in the heart of our Camp-Resort, our White Pine Cabins are a great option when looking for lakeviews! Plus, this cabin type is just steps away from the jumping pillow, playground, tennis court, mini golf course, Pic-A-Nic Basket, Camp Store, and more!
Say hello to comfort and lots of space when you book one of our White Pine Cabins! With room to sleep up to 7 people, 2 private bedrooms, a loft space, kitchen, and full bathroom, this cabin type has it all. Similar to our Lake Bluff Bungalows, you can enjoy a access to a charcoal grill, picnic table, and fire ring as well. When booking this cabin type, you also have an option to select an ADA layout. This is great for accommodating those who may need a little more space when staying at our Camp-Resort.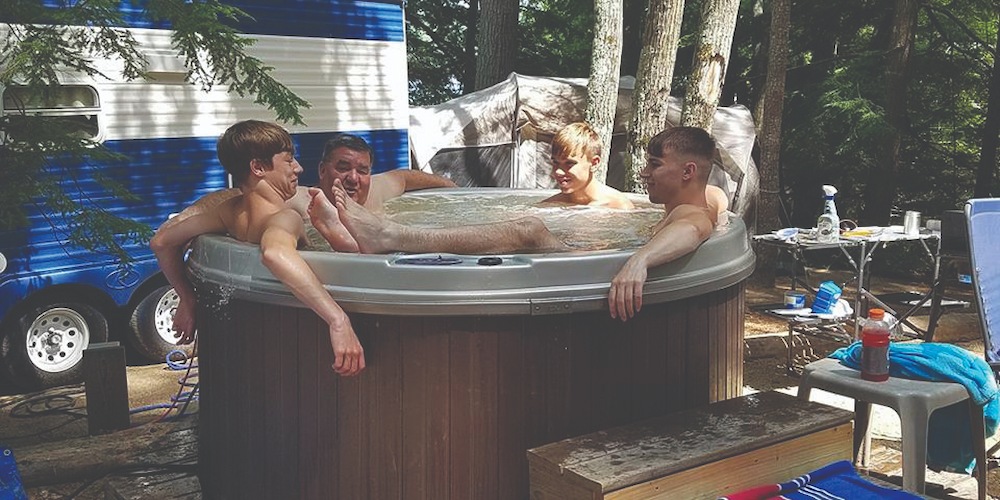 Hot Tub Rentals
Looking to make your New Hampshire cabin rental experience even better? We offer hot tub rentals so you can enjoy nights relaxing under the stars right from your cabin! Once you reserve a hot tub, our staff will deliver it to your cabin, so you don't have to worry about a thing! Our hot tub rentals are a hot commodity, so we recommend booking one at the time of your reservation. Please note that there is a 2-night minimum during non-peak season and a 3-night minimum during peak season.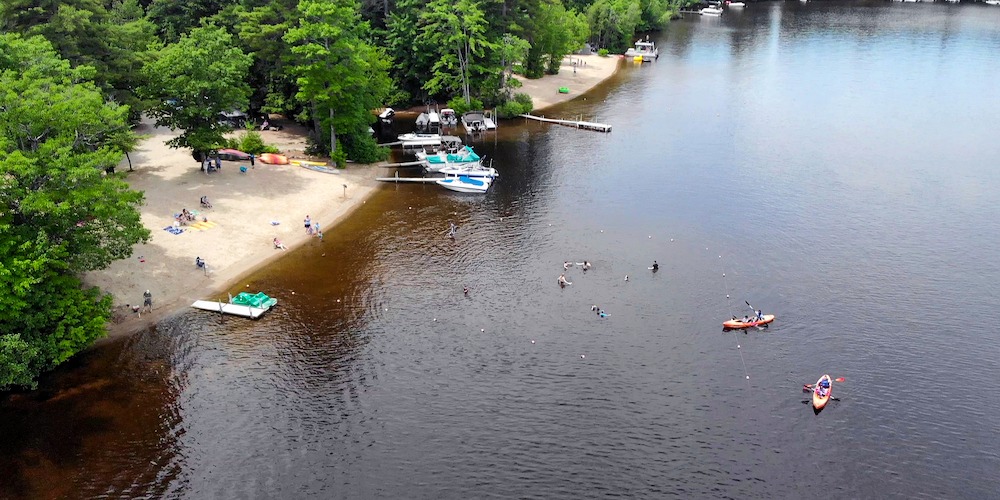 Sandy, Private Beaches
When staying at our New Hampshire campground, you instantly get access to our 2 sandy beaches! Both beaches have a gradual entry into the crystal clear water of the Northeast Pond, and are only accessible when staying at our Camp-Resort. This way, you can enjoy the water without feeling too crowded with people! Whether you're looking to sunbathe along the water, build a sandcastle, or swim with friends in the lake, our Camp-Resort has something for everyone. Don't forget to pack plenty of sunscreen, beach towels, and sand toys!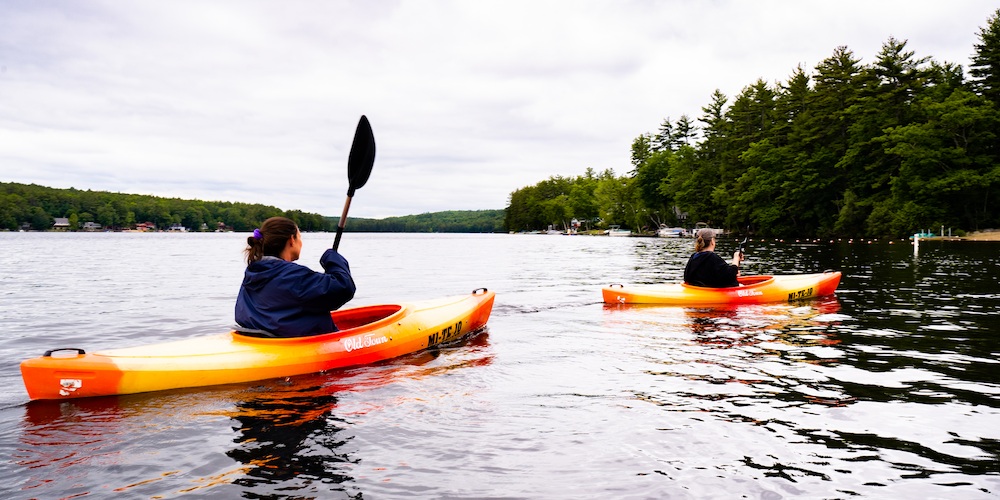 Water Rentals
Although relaxing along the sandy beaches or swimming the day away is a great way to spend your family vacation, don't forget to check out our water rentals! If you're looking to explore the Northeast Pond at your own pace, booking a canoe or kayak is the way to go. Or, if you'd rather explore the lake with a friend, our pedal boats are a great option! Lastly, if you're looking to enjoy the gorgeous lake views in a more challenging way, rent one of our paddle boards and test your balance skills. No matter what you choose, our water rentals are great for making family memories.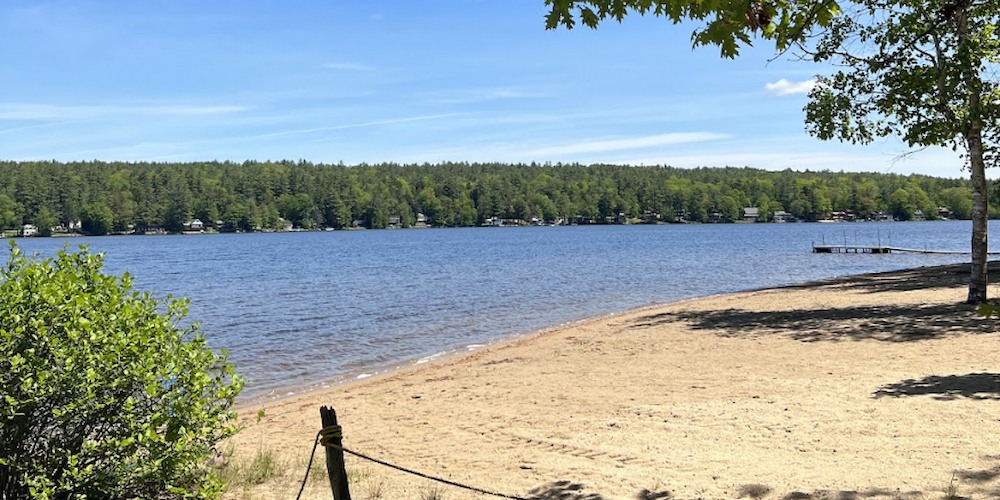 Water Views Around Every Corner
When staying at Jellystone Park™ Lakes Region, you can expect breathtaking panoramic views of the lake everywhere you go. From playing a round of shuffleboard or horseshoes, to walking onto the porch of your lakeview cabin, you'll feel at ease when taking in views of the Northeast Pond. From the combination of the fresh air and windy breeze, you and your family will feel less stressed when staying along the water.
As you can see, our Camp-Resort provides plenty of perks when you book a lakeview cabin along Northeast Pond! Due to having limited cabins, we recommend booking your summer getaway now so that you can secure the cabin type, location, and dates that work for you and your family. You can book online here or give our reservations team a call at 603-652-9022 to book your lakeview cabin. See you on the water!